Miscellaneous links
GALS summer camp
Here is basic information regarding for the (past) 2016 summer program for middle school girls interested in science.
GALS will be on hiatus in 2017 - the geology building at Carleton is being torn down.
Here is a nice write-up on GALS from the National Science Foundation, Earth Sciences division.
Letters?
So you'd like a letter of reference...please read
this
.
Ceramics
A
log
of my ceramics projects.
Maps
Jules Verne Voyager
- a great map making website that includes all sorts of overlay capabilities (plate boundaries, earthquakes locations and depths, focal mechanisms, GPS velocities, etc.); also includes options for maps within the solar system.
Blog
I wrote a post about being a mother and a field geologist for the Structure and Tectonics division of GSA, in honor of GSA's 125th anniversary. You can find it
here
.
Comps
Guidelines for
comps
at Carleton.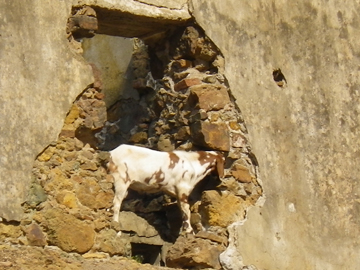 Yes, that goat is eating the wall of an old building.