The Sogn Valley Radio Astronomy Observatory
Joel Weisberg
Carleton College Department of Physics and Astronomy

The founding of the Sogn Valley Radio Astronomy Observatory



Several Carleton students and I built a radiotelescope, whose construction was described in a series of articles by George Swenson in Sky and Telescope magazine. It was an extremely difficult project, but after several years of work, we eventually succeeded.

The telescope was a two-element 73.8 MHz interferometer, a (very) miniature version of current professional interferometers such as the Very Large Array in New Mexico.


Click for full photo.
Fig 1: Early tests near Goodsell Observatory





Click for full photo.
Fig. 2: Setting up antennas near Lyman Lake





Click for full photo.
Fig 3: Waiting for results at Lyman Lake.


After these attempts to observe from the Carleton campus, we decided that there was too much interference from local and Twin Cities TV and radio stations. Consequently, we moved our observing site to Mac and Margaret McCutcheon's farm in the Sogn River Valley, about fifteen miles southeast of Carleton. The Sogn Valley shielded us from the radio interference that dogged us at Carleton, and we were able to successfully observe the Sun and the Cygnus A radio galaxy from this site.





Click for full photo.
Fig. 4: Setup in the Sogn Valley





Click for full photo.
Fig. 5: Ready to go at the Sogn Valley





Click for full photo.
Fig 6: Results!





Click for full photo.
Fig 7: More Results: Cygnus A
It is remarkable to contemplate the immense rate of advance of technology represented by this telescope. Cygnus A was only discovered by professionals in the late 40's. By the mid-80's, it could be observed by our amateur equipment (albeit crudely). It took many years before its true nature was recognized -- it is a pair of enormous (larger than a galaxy in size) lobes of radio-emitting gas that was probably ejected as it attempted to fall into a too-engorged supermassive black hole at the center of the galaxy. Radio images (below) from the Very Large Array show beautiful, detailed structure in the lobes.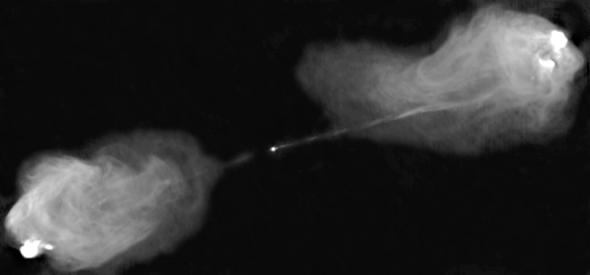 Click for full photo.
Fig 8: Cygnus A
(Image courtesy of NRAO/AUI)



Move up to Joel Weisberg's Home Page
Move up to Carleton College Physics & Astronomy Home Page
Last updated on December 6, 2021.